People worldwide love ?, except the French, who prefer ❤️, according to a new study of global emoji usage.
Researchers analyzed 427 million messages from nearly 4 million smartphone users in 212 countries and regions to see if emoji use was universal or differed based on user location and culture.
They used a popular input method app—Kika Emoji Keyboard—made available in 60 languages. The team's results are believed to be the first large-scale analysis of emoji usage.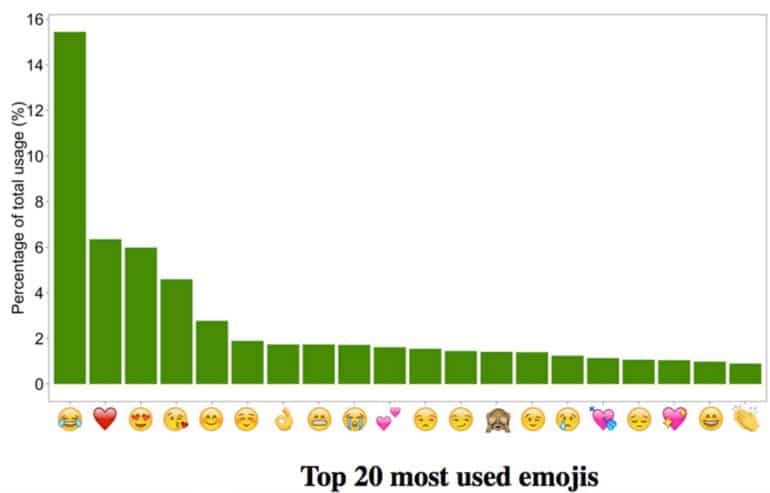 "Emojis are everywhere. They are becoming the ubiquitous language that bridges everyone across different cultures," says Wei Ai, a doctoral student at the University of Michigan School of Information and one of the lead authors of the study.
Ai and colleagues found that ? emoji is the most popular emoji, comprising 15.4 percent of the total symbols in the study.❤️ and ? are the second- and third-most used options.
According to the findings, the French love using an emoji the most, with nearly 20 percent of messages including at least one symbol, followed by Russians and Americans. The French embrace icons associated with hearts, while users from other countries prefer emojis related to faces.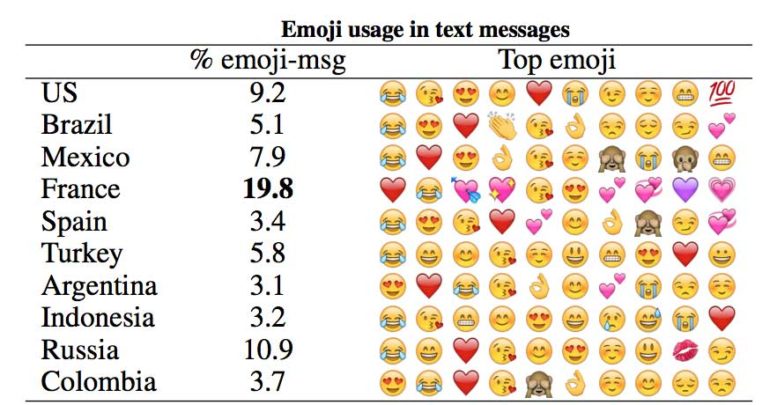 The researchers also explored other cultural preferences in using emojis. Countries with high levels of individualism, like Australia, France, and the Czech Republic, overwhelmingly use more happy emojis, they says.
Countries where ties between individuals are integrated and tight, like Mexico, Chile, Peru, and Colombia, use more emojis expressing sadness, anger, and negative feelings.
People in long-term orientation societies who tend to have values that center on the future (i.e., perseverance and thrift)—French, Hungarians, and Ukrainians—are less likely to use negative emojis than those living in societies with low long-term orientation like Mexico, Colombia, Peru, and Israel.
"Our report shows that users from different countries can have various preferences to use emojis," says Qiaozhu Mei, associate professor at the University of Michigan School of Information. "The rank of emojis shown in the input methods should be country-aware to users."
Input methods could be developed to suggest relevant "next-to-use" emojis to users, research suggests.
The findings are available in the Proceedings of the 2016 ACM International Joint Conference on Pervasive and Ubiquitous Computing. Additional coauthors are from Peking University and Xinmeihutong Inc.
Source: University of Michigan