Despite pledging an all-out effort to do away with wasteful regulations, President Donald Trump's proposed 2018 budget would increase federal spending on regulatory agencies by 3.4 percent, according to a new report.
"President Trump's proposed budget calls for more staff and resources for agencies responsible for immigration and border protection, while reducing staff and resources at other agencies, particularly those focused on the environment," conclude the authors, whose annual reports track shifts in regulatory spending across nearly six decades.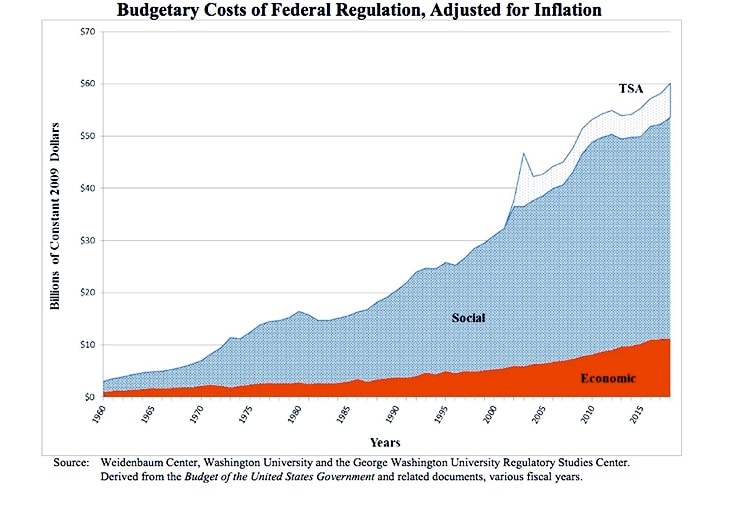 The current budget analysis, which Melinda Warren of the Weidenbaum Center at Washington University in St. Louis and Susan Dudley of the Regulatory Studies Center at George Washington University conducted, reveals that the president's requested 3.4 percent increase in expenditures for federal regulatory departments and agencies is two times the increase President Barack Obama got for those same regulators in 2017.
Highlights:
Although President Trump has made reducing regulatory burdens a priority, he proposes to increase the regulators' budget in FY 2018.
The proposed 2018 regulators' budget reflects a 3.4 percent real increase in expenditures.
The proposed increase is twice the 1.7 percent increase estimated in 2017.
Proposed outlays are $69.4 billion for 2018 compared to $65.9 billion in 2017 and $63.7 billion in 2016.
Proposed staffing levels would decline by 0.5 percent—from 281,300 full-time personnel in 2017 to 279,992 in 2018. In 2017, regulatory agency staffing increased 1.5 percent.
Some agencies are budgeted for significant increases in both expenditures and staff, while others face dramatic cuts.
Agencies within the Department of Homeland Security (DHS) focused on immigration are the big budgetary winners, including: Coast Guard, Immigration and Customs Enforcement, Customs and Border Control and Transportation Security Administration.
Overall, DHS regulatory agencies would increase expenditures by 13.7 percent (an additional $4.1 billion) in 2018, after a 5.9 percent increase ($1.7 billion) in 2017.
DHS staffing is also budgeted to grow by 2.3 percent (3,294 additional people) in 2018 following a 1.3 percent increase (1,896 people) in 2017.
The Environmental Protection Agency (EPA) is targeted for sharp reductions in both expenditures and staffing. The budget proposes a 26.2 percent reduction in EPA's outlays, to $4.1 billion in 2018, down from $5.5 billion in FY 2017.
If implemented, this would be EPA's smallest budget since 1987.
EPA's staff under the proposed 2018 budget would decline by 3,811 employees—from 15,500 to 11,689—a reduction of 24.6 percent.
The last time EPA employed fewer than 12,000 employees was 1984.
Agencies that are at least partially funded by fees on the entities they regulate are generally growing at a faster rate than those which depend on appropriations from general funding.
The Food and Drug Administration, the Patent and Trademark Office, the Consumer Financial Protection Bureau, and the Securities and Exchange Commission have significantly increased their expenditures in recent years.
While spending and staffing at federal agencies has generally increased over the 59-year period covered by this report, the focus of those resources and the rate of increase have varied with the perceptions of public policy issues and the philosophies of elected officials in the executive and legislative branches.
The 1960s and first half of the 1970s were characterized by very rapid growth in regulatory expenditures and staffing, particularly at the newly formed social regulatory agencies. The regulators' budget grew by 129.1 percent during the '60s and 136.6 percent in the '70s.
Total real annual expenditures and personnel on regulatory programs declined in the early 1980s, but rebounded later that decade, for an overall budget increase of 24.5 percent between 1980 and 1990.
Regulatory spending and staffing continued to grow in the 1990s, for a total spending increase of 51.5 percent over the decade.
Between 2000 and 2010, regulatory expenditures and staffing grew at a faster rate than the previous two decades (71.5 percent overall) due largely to an increased focus on homeland security regulation.
Between FY 2009 and FY 2017, which roughly conforms to President Obama's two terms in office, regulatory expenditures increased by 13.3 percent, while staff levels increased by 7.4 percent. This pace of growth in both regulatory outlays and staffing was slower than during President George W. Bush's two terms in office.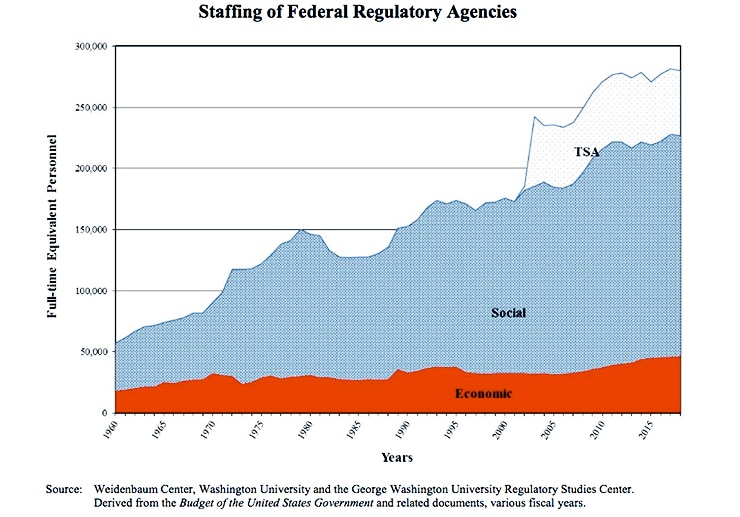 The original report is available here.