Elusive planets and dim failed stars may be lurking around the edges of our solar system, and astronomers want the public's help to hunt them down.
By using a new website called Backyard Worlds: Planet 9, anyone can help search for objects far beyond the orbit of our farthest planet, Neptune, by viewing brief "flipbook" movies made from images captured by NASA's Wide-field Infrared Survey Explorer (WISE) mission. A faint spot seen moving through background stars might be a new and distant planet orbiting the sun or a nearby brown dwarf.
"Backyard Worlds: Planet 9 has the potential to unlock once-in-a-century discoveries, and it's exciting to think they could be spotted first by a citizen scientist."
WISE's infrared images cover the entire sky about six times over. This has allowed astronomers to search the images for faint, glowing objects that change position over time, which means they are relatively close to Earth. Objects that produce their own faint infrared glow would have to be large, Neptune-size planets or brown dwarfs, which are slightly smaller than stars.
Physicist Aaron Meisner, a postdoctoral researcher at the University of California, Berkeley, specializes in analyzing WISE images and has automated the search using computers, but he jumped at the idea by NASA astronomer Marc Kuchner to ask the public to eyeball the millions of WISE images. Scientists launched the planet and brown dwarf search February 15.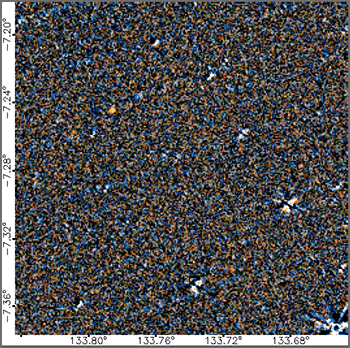 "Automated searches don't work well in some regions of the sky, like the plane of the Milky Way galaxy, because there are too many stars, which confuses the search algorithm," Meisner says. Last month he published the results of an automated survey of 5 percent of the WISE data, which revealed no new objects. But, online volunteers "using the powerful ability of the human brain to recognize motion" may be luckier.
"Backyard Worlds: Planet 9 has the potential to unlock once-in-a-century discoveries, and it's exciting to think they could be spotted first by a citizen scientist," he says.
"There are just over four light-years between Neptune, the farthest known planet in our solar system, and Proxima Centauri, the nearest star, and much of this vast territory is unexplored," says Kuchner, the lead researcher and an astrophysicist at NASA's Goddard Space Flight Center in Greenbelt, Maryland.
"Because there's so little sunlight, even large objects in that region barely shine in visible light. But by looking in the infrared, WISE may have imaged objects we otherwise would have missed."
The Planet 9 debate
People have long theorized about unknown planets far beyond Neptune and the dwarf planet Pluto, but until recently there was no evidence to support the idea. Last year, however, Caltech astronomers Mike Brown and Konstantin Batygin found indirect evidence for the existence of an as-yet-unseen ninth planet in the solar system's outer reaches.
This "Planet 9" would be similar in size to Neptune, but up to a thousand times farther from the sun than Earth, and would orbit the sun perhaps once every 15,000 years. It would be so faint as to have so far evaded discovery.
At the moment, the existence of Planet 9 is still under debate. Meisner thinks it's more likely that volunteers will find brown dwarfs in the solar neighborhood. While Planet 9 would look very blue in WISE time-lapse animations, brown dwarfs would look very red and move across the sky more slowly.
WISE images have already turned up hundreds of previously unknown brown dwarfs, including the sun's third- and fourth-closest known neighbors. Meisner hopes that the Backyard Worlds search will turn up a new nearest neighbor to our sun.
Be a coauthor
"We've pre-processed the WISE data we're presenting to citizen scientists in such a way that even the faintest moving objects can be detected, giving us an advantage over all previous searches," he says. Moving objects flagged by participants will be prioritized by the science team for later follow-up observations by professional astronomers. Participants will share credit for their discoveries in any scientific publications that result from the project.
The WISE telescope scanned the entire sky between 2010 and 2011, producing the most comprehensive survey at mid-infrared wavelengths currently available. With the completion of its primary mission, WISE was shut down in 2011, then reactivated in 2013 and given a new mission: assisting NASA's efforts to identify potentially hazardous near-Earth objects—asteroids and comets in the vicinity of our planet. The mission was renamed the Near-Earth Object Wide-field Infrared Survey Explorer (NEOWISE).
"By using Backyard Worlds: Planet 9, the public can help us discover more of these strange rogue worlds."
The new website uses all of the WISE and NEOWISE data to search for unknown objects in and beyond our own solar system, including the putative Planet 9. If Planet 9 exists and is as bright as some predict, it could show up in WISE data.
WISE is uniquely suited for discovering extremely cold brown dwarfs, which can be invisible to the biggest ground-based telescopes despite being very close, Meisner says.
"Brown dwarfs form like stars but evolve like planets, and the coldest ones are much like Jupiter," said team member Jackie Faherty, an astronomer at the American Museum of Natural History in New York. "By using Backyard Worlds: Planet 9, the public can help us discover more of these strange rogue worlds."
Backyard Worlds: Planet 9 is a collaboration among NASA, UC Berkeley, the American Museum of Natural History, Arizona State University, the Space Telescope Science Institute in Baltimore, and Zooniverse, a collaboration of scientists, software developers, and educators that collectively develops and manages citizen-science projects on the internet. Zooniverse will spread the word among its many citizen volunteers.
NASA's Jet Propulsion Laboratory in Pasadena, California, manages and operates WISE, part of NASA's Explorers Program.
Source: UC Berkeley