The coffee berry borer, a beetle capable of decimating 80 percent of a coffee crop, is notorious in places like Hawaii and Brazil, where it has devastated coffee production.
The beetle is notorious in places like Hawaii and Brazil. In February, careful inspection by the Coffee Industry Corporation in Papua New Guinea led to its discovery in a container of beans. Papua New Guinea was one of only two coffee-producing countries free of it, until now.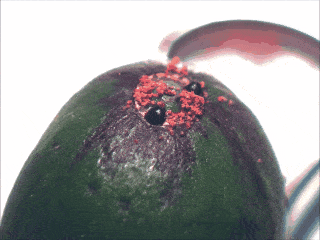 Proactive training may be a way to save Papua's coffee, which is the backbone of its economy, says Jiri Hulcr, a forest entomologist with the University of Florida's School of Forest Resources and Conservation, part of the Institute of Food and Agricultural Sciences.
"We're being proactive by looking at agricultural pests abroad and at home, and informing our government as well as developing nations about potential threats. Usually the focus is on places where infestations have taken hold, but we aim to save commodities in places that remain untouched."
Hulcr has worked in the US and abroad to save commodities like avocados, pine trees, mangos, and figs from dangerous pests. The proactive training that led to early identification of the berry borer in Papua New Guinea will inform future work.
Hulcr and colleagues spent the last two years preparing New Guineans for what to do if they encountered the beetle. His team trained local inspectors to survey coffee crops throughout the country, recognize damage symptoms, take high-quality photographs of any suspect using microscope camera equipment, and email the images to Hulcr's lab for identification.
"They have been ready for this," he says. "The trouble is they have lots and lots of local species that look like it, but the native beetles don't cause any damage. It requires training to identify the real pest among many imposters."
Training drills gave way to the real sighting when local inspectors examined a specimen under the microscope. Realizing it was the invasive berry borer, they sent a photo to Hulcr's lab where the detection was confirmed.
New Guinean authorities immediately started a survey to delimit the distribution of the small outbreak and began an aggressive mission to eradicate it.
Andrew Johnson, a doctoral student in the School of Forest Resources and Conservation, trained local entomologists to identify signs of the beetle's infestation. Meanwhile, Craig Bateman, a doctoral student with the entomology and nematology department, helped authorities in Papua New Guinea build a lab capable of performing insect DNA extraction, which helps scientists confirm species identification.
"It is great to consider all the accomplishments we've had in New Guinea and elsewhere. Our work has direct benefits of increased food security, and infrastructure for agricultural research," Bateman says.
Now that the beetle has been found, inspectors will visit the farm of origin, examine plants for signs of the insect, and destroy any that might be infested. Early detection is key to stopping the borer and other pests, Hulcr says.
"We prepared them, gave them good information and good training, and now they are working to eradicate the pest themselves."
Source: University of Florida