Donald Trump and Planned Parenthood are the top recent advertisers and young men were targeted most often, according to a new analysis of Facebook and Instagram political advertising.
"We wanted to quickly give voters easy tools to understand who is advertising and what they are advertising…"
Using complex data scraping methods, cybersecurity researchers analyzed more than 267,000 political ads that primarily ran between May 2018 and July 2018. They developed tools to enable the public to do their own analyses, using weekly updates that the researchers plan to conduct through the November elections.
Initial findings reveal the top recent political advertisers and their minimum impressions and spending:
The Trump Make America Great Again Committee: 4,127 ads, 26.4 million impressions, $190,400
Planned Parenthood Federation of America: 3,389 ads, 24.5 million impressions, $188,800
AAF Nation, LLC (manufacturer of political-themed clothing): 862 ads, 18.4 million impressions, $78,900
National Rifle Association: 213 ads, 18.3 million impressions, $58,000
Beto for Texas (Democrat running for Senate): 377 ads, 13.0 million impressions, $194,400
Priorities USA Action and Senate Majority PAC: 2,794 ads, 12.9 million impressions, $120,600
NowThis (liberal-leaning media company): 35 ads, 11.6 million impressions, $7,400
Donald J. Trump for President, Inc.: 5,396 ads, 11.3 million impressions, $83,700
4Ocean, LLC (focused on reducing ocean pollution): 78 ads, 10.6 million impressions, $68,200
Care2 (creates social networking around causes): 557 ads, 10.1 million impressions, $99,900
The data also reveal substantial online advertising by candidates in congressional and state races.
The researchers found Facebook and Instagram users viewed political ads at least 1.4 billion times—and impressions may have reached nearly 3.9 billion. (Facebook's data provide only ranges.)
Advertisers targeted males aged 25-34 most frequently. The most ads per capita appeared in Washington, DC, followed by Nevada, Colorado, and Maine. The fewest appeared in Delaware, Nebraska, and New Hampshire.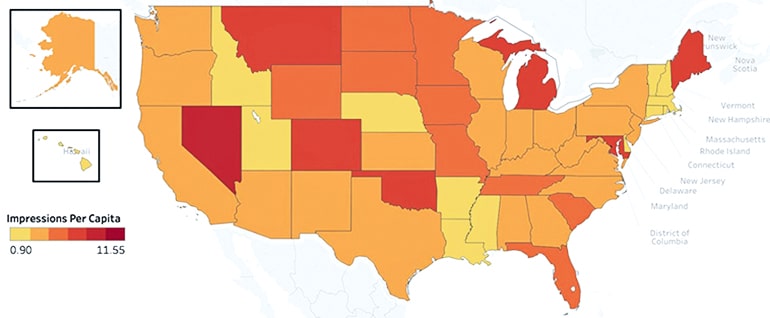 Political spending equaled at least $13.9 million and could have been five times that—the uncertainty is due to the ranges provided in the original data. A significant number of ads—43,573—did not comply with Facebook's new requirement that political ads list sponsors and were therefore shut down, but the researchers' daily archiving captured these "unvetted sponsor" ads.
The researchers note that some of the offenders may have been caught off guard by the policy change. They also note that while Facebook reduced the time it takes to shut down these ads from 26.4 days to 5.6 days, the delay remains longer than the ads typically run.
The team reported the top five unvetted sponsors as identified by Facebook and their minimum impressions and spending:
American AF: 253 ads, 8.2 million impressions, $103,800
National Rifle Association of America/NRA: 56 ads, 7.9 million impressions, $78,500
I'll Go Ahead and Keep My Guns, Thanks (listed as a media company): 26 ads, 7.6 million impressions, $120,300
China Xinhua News: 44 ads, 6.8 million impressions, $6,000
Walmart: 18 ads, 5.8 million impressions, $51,900
Next, the team plans to use its complex data scraping methods to reveal similar information for Twitter.
Damon McCoy, an assistant professor of computer science and engineering at New York University conceived the Online Political Ads Transparency Project to build easy-to-use tools to collect, archive, and analyze political advertising data.
Although Facebook became the first major social media company to launch a searchable archive of political advertising, for both Facebook and Instagram, in May 2018, McCoy found the archive required time-consuming manual searches. He decided to apply versions of the data scraping techniques he had previously used against criminals, including human traffickers who advertised and used Bitcoin.
McCoy and his team praised Facebook for its pioneering transparency in establishing a public archive and its plan to launch an API—an app interface—that will enable large-scale analysis; however, Facebook has not specified when in 2018 it will launch this API.
"We wanted to quickly give voters easy tools to understand who is advertising and what they are advertising, as well as how much is being spent to influence votes and the targets of the ads," McCoy says.
You can visit the project's website here and download the project's data here.
Collaborators on the Online Political Ads Transparency Project are from NYU.
Source: NYU